I have been crafting and organizing up a storm lately. My latest craft obsession: WREATHS!! I have recently completed SO MANY, and I've been a little behind on posting...for various reasons. However, there is an awesome link up going on...which is inspiring me to post my lovely wreaths. SO...I'm dedicating this week's posts to my current wreath projects. Hope you enjoy!!!
I AM IN LOVE with book page projects...I think they are lovely! So many different ways to work, decorate and craft with book pages...I chose to create a book page wreath...and I'm in love! It is probably one of my favorite wreaths that I've done recently. Here is the finished wreath:
I was inspired by several "pins", but made a twist based on the pin's tutorial:
Materials needed:
Book (I used one that I would never read...it was from the Dollar Store...CHEAP!!!)
Hot glue gun and glue (LOTS!)
Wreath form
Twine
Distress Ink pad (to antique the book pages)
Pearls (Used to personalize the wreath)
Scissors
First, I want to show a close up of one of my favorite items on this wreath. It is a pearl brooch that I was given from my great grandmother (still alive). I hot glued it onto one of my twine flowers, and I love how I was able to incorporate it into this wreath...
Here are some other close ups of the wreath: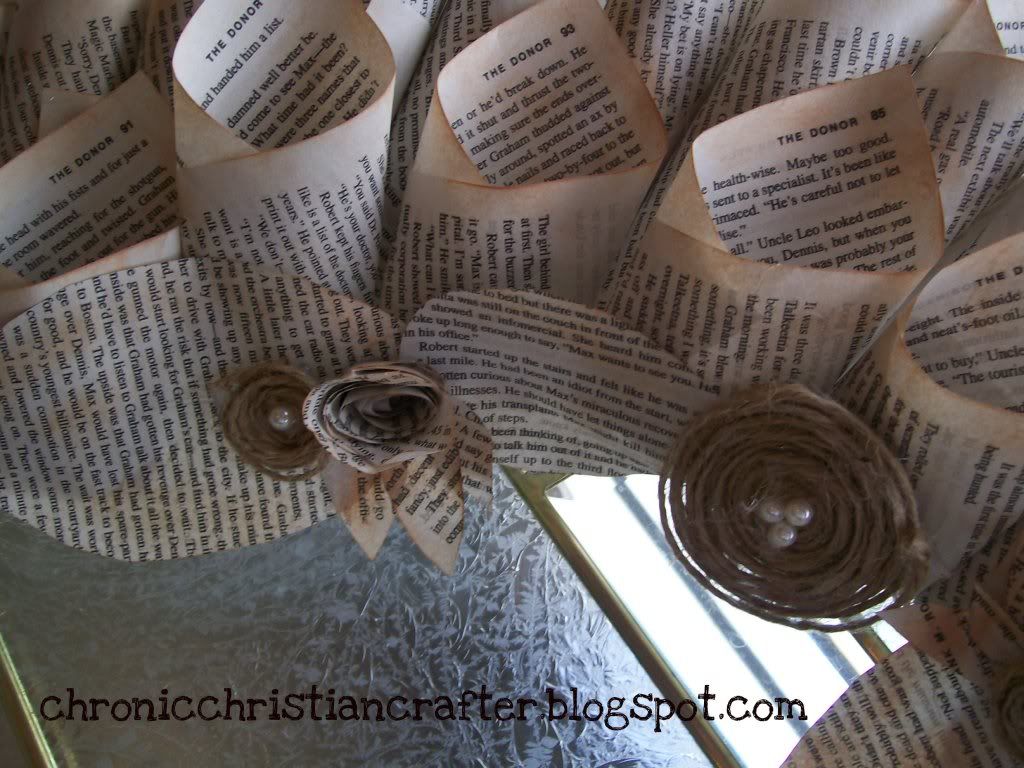 Here are directions on creating this wreath:
Tear apart your book, and then roll the book page into a cone. Hot glue the edges of the cone to help it keep its form. Then, I hot glued the "book page cone" onto the wreath form.
Continue around the wreath form with this method....I did three rows of "book page cones".
To complete and add finishing touches to wreath, cut "leafs" from book pages (large, medium and small). I also made a few book page flowers. The great tutorial for these is located at Nesting Place.
I also made twine swirls/flowers (various sizes). This was done by hot gluing as I was wrapping the twine (sorry no pictures...hard to do this while hot gluing and keeping the swirl together!).
Take the "book leafs", book page flowers, twine swirl flowers, and pearls to create a "finished look" along the inside of the wreath.
Take some Distress Ink and distress the edges of book pages...this provides an "old" book look. My book was not old!
I love the look of book page wreaths...there are numerous tutorials out there, but...I'm glad I settled on this style...Let me know what you think. Blessings.
Each week I may link up at the parties located at my tab located on my blog love tab here. Feel free to check these lovely sites out! I am also linking up to: